Deya Dova's Planetary Grid Project is an artistic exploration of sound mapping with the voice, field recording in nature and connecting with the Earth's energetic system. The project inspires re-connection with the Earth, the greater Cosmos and the Divine Intelligent Field. It teleports the listener to connect with the energy, frequency and vibration of these stunning ancient places.
Over the past 4 years, Deya Dova has travelled to 33 locations on the Earth's energy lines, and recorded over 50 songs live in the natural landscape. Deya understands these songs to reflect the cymatics and sonic blueprints of the primordial environment. Connecting with a planet that counts time in billions of years.
Through a state of deep listening and reverence Deya Dova sings in direct response to the land.
From as early as 1999 Deya has been recording live in the landscape at energy centres, including the Sinai Desert, Teotihuacan's Pyramid of the Sun and Moon, Avebury stone circle, Uluru and Kata Tjuta in Central Australia. Her early exploration of field recording in nature has lead to her research of Earth's energy lines, human origins, geomancy, ancient Earth wisdom and to further explore her own experience connecting with the Earth's energy field through sound.
Initial releases from this project include best selling song Grandmother Tree & The Feathered Serpent, recorded at Wulambiny Momoli / Mt Warning,  on the East Coast of Australia and released on Deya Dova's Symbiotic album.
Also The Great Sky Lodge, recorded at Mato Tipila / Devil's Tower in Wyoming and released on the Myth Of The Cave album.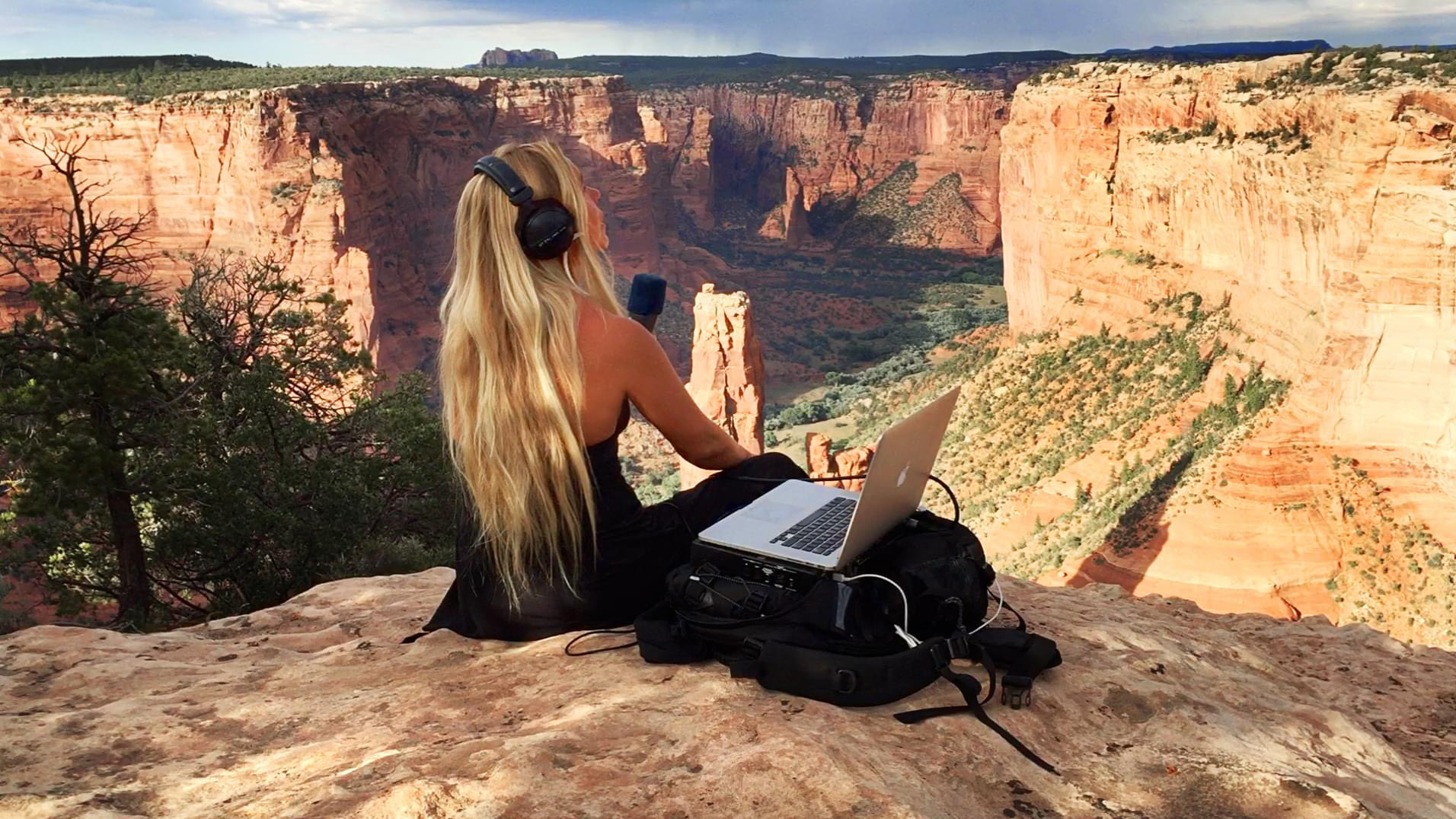 The Planetary Grid music feature Deya Dova's pure vocals with occasional ambient production added later in the studio. Vibrational music perfect for yoga, creativity, meditation, relaxation, journeying and healing. For uplifting mornings, for daily practice, for creative days and relaxing nights.
Now this incredible body of music – The Planetary Grid Music Collection – is being released as an exclusive series of 12 mini albums traveling the listener from location to location.
From the petroglyphs in the Australian desert, to limestone monoliths in New Zealand, the crystal waters of Hawaii and the majestic lakes and glaciers of the Canadian Rockies. To ancient canyons in Arizona, primordial waters in Nevada, Ancient stones of Northern Scotland, temples of Guatemala and Mexico  just to mention a few.
In addition to releasing all the music Deya Dova is offering live video calls in which she directly shares the experience of recording at each of the sites. Including awareness, understanding and knowledge of the Earth's energetic field, energy lines and conscious creation.
A percentage of all profits from this project are being donated to support organisations that protect our sacred water and land.
This unique music collection is available exclusively through the Planetary Grid website – http://planetarygridproject.com